Laying the foundation for digital success
With their old site on its last legs, the Brain Foundation (NL Hersenstichting) wanted a site that met the fundamental needs of its stakeholders.
We developed a groundbreaking content strategy to set them on the path to digital success. This formed the basis for the renewal of hersenstichting.nl – now with over 7 million effective touch points – and company-wide innovations such as the Ommetje app.
In recent years the Brain Foundation has transformed into an organisation with a high impact on society. Our research, content strategy and content production supported this transition with its strong focus on 11 Customer Jobs of patients, their families and health care professionals.
A website that really connects with stakeholders
ContentKings won the tender for a needs assessment because of its relentless focus on customer jobs. This focus boils down to one essential question: how can the Brain Foundation support its stakeholders through its content?
Our stakeholders' issues formed the central part of the ContentKings proposal. This 'Customer Jobs' vision immediately appealed to us.

Lisanne van Daalen – de Jel
Online marketing & Communication consultant
About the organisation
The Brain Foundation is an independent health fund, financed entirely by donation.  It carries out vital research into brain conditions, educates sufferers and their families, and provides resources to health professionals.
One in four
The brain is the most complex organ in the body.  But it is estimated that one 1-in 4 people in the Netherlands have to deal with a brain disease in their lives.  There are more than 100 brain diseases with overlapping symptoms.
1) Analysis
Our work started with task analysis.  As always we performed the research in the field, either in user's home or in the office.  We interviewed several respondents from target audiences such as:
patients with brain disease
relatives and caretakers of patients
scientific researchers
healthcare professionals
the general public
We also organised focus groups. This allowed us to identify the core stakeholders issues or – as we call them – customer jobs. We found out what stakeholders hoped to achieve when they contact the Foundation or visit the website. The stakeholders' habits we observed were categorised into 11 customer jobs.
The task analysis revealed something spectacular among patients and caretakers.  After their doctor, the Brain Foundation website is their most trusted authority. This recognition of the website's value to stakeholders created great momentum in the organisation for its further improvement.
2) Strategy
Design thinking workshops throughout the organisation brought the customer jobs to life, while building momentum for change. Our Customer Jobs Canvas provided detailed insight that meant colleagues could jointly recognise customers' real needs.
Customer jobs
'Recognising symptoms' was a key customer job discovered in the analysis.  Website visitors are checking symptoms they or a loved one have to see if they might be part of a brain disease.
A similar customer job was 'taking care of someone with a brain disease'. Families, caretakers and healthcare professionals all wanted this information and would benefit from it being presented in the right way.
Because customer needs were jointly recognised, different parts of the foundation would co-operate to solve them – leading to greater impact of its activities.
3) Execution
The Brain Foundation ultimately launched a new website,  with a strong focus on the customer jobs of stakeholders.
The current information is relevant for the visitor and is easier to update within the organisation from now on.
Standard template as a content model
First of all, we developed a standard template that made it possible to structure information according to a fixed format. This consisted of the questions our research suggested stakeholders were looking for an answer to: 'Recognise symptoms' and 'Caring for someone with a brain disorder'. For these questions we developed a source file structure for each of the 100 brain diseases.
Language level B1
From the outset, ambition was high. Medical language is complex and difficult to understand but the users come from many backgrounds. For this reason the Dutch government recommends language level B1 for public health information. We decided the content about brain diseases therefore also had to be written in simple Dutch to make it as inclusive as possible.
Validation of content by scientists
We presented the information to leading physicians and scientists for validation. In this way, all information is relevant, up-to-date and scientifically sound.
This file serves as a source for all possible communication, such as website or brochure content. Existing information can be easily kept up to date, as soon as a new update or discovery is made that is relevant for a particular brain disease.
In this way, visitors to the site get answers to their questions and they are informed of the latest developments.
Own platform for content production
There is now a content platform with source files, where everyone in the organisation can find up-to-date information. There are validated source files about brain diseases, their consequences, and studies to which the Brain Foundation has contributed.
The website is enormously improved. The visitor immediately finds the most important information for their needs. The potentially life-saving information is formulated in simple language (B1 level).
Network of scientists
Because of the intense knowledge required to update the site, the project has created a network of medical scientists and doctors. The Brain Foundation can consult this network at any time from now on. We are also involved in follow-up research among general practitioners and nurses.
We are currently developing a strategy for better communication about brain diseases in the care process – between specialists in the second line of health care, to the first line in health care: the general practitioners. In this way, too, we contribute to a reduction in the burden of disease and better care, at the right time, for each patient.
What is so great about ContentKings: they do not just think along, but several steps ahead. They think about solutions long before obstacles arise. They really add their expertise to ours: 1+1 = 3.

Angelique Roeland
project leader
End result
The new website is a resounding success. Hersenstichting.nl is a reliable source for accessible, scientifically validated information for millions of people.
In recent years the Brain Foundation has transformed from a traditional health fund into an organisation aiming for a high impact on society. The ContentKings field research supported this transition.
The amazing success of the Ommetje app with 1.3 million users is no coincidence. If you focus on the Customer Job ('Staying healthy'), it lays the foundation for digital success.
The ContentKings method uncovered 11 Customer Jobs of patients, their families and health care professionals. They helped making choices in campaigns and communication. The content strategy and content production proved how effective it is to focus on Customer Jobs.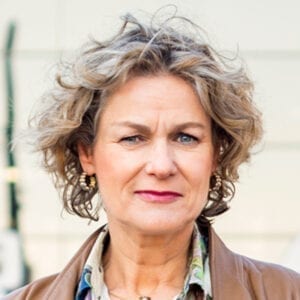 Ellen Altenburg
Want to know more? Want to know what ContentKings can do for your project? Contact Ellen.
Contact Ellen