Customer Jobs are about focus. This is a story about a group of professionals that we got to imagine the pharmacy of the future by focusing on what customers really want to do. Their insights confirmed what radical change is possible when you focus on what is really necessary.
Not only does it get to the bottom of the real needs of your customers, but also clarifies the solutions that really hit the mark with your customers.
It is all about their Job to be Done (JTBD), which problem is the customer trying to solve? (Prof. Clayton Christensen, Harvard 2011). This makes you confident in your actions, even when the future looks unstable.
How outsiders are sometimes the best helpers
Last June, I discussed the situation of a pharmacist with a number of international participants in an old city district of Pavlovo in Sofia.
Pharmacist Victor had an aging clientele. He saw their health declining, with more and more time in hospital. He knew he could play a deeper role in improving his customers' life.
Now, Victor doesn't exist. Rob and I invented him for the Workshop Customer loyalty in the digital age at the OmnichannelX2020 conference. We also made up a 72-year-old customer Nicolas, who has worked all his life in the metal industry in the Sofia area.
Nicolas has had more headaches recently, but is reluctant to take the medication. Not only because of their expense. He simply doesn't like the idea that his health might be deteriorating. He likes to walk in the neighborhood and walks his regular circle, likes to sit on his regular bench in the park. Nicolas, who wants to live here in his own place until the end.
As fictional as they are: Victor and Nicolas have helped as personas in our online workshop for the OmnichannelX2020 conference. Central to our workshop was Nicolas' Customer Job 'Staying healthy'.
Strength of conviction and capacity
During the Zoom session, participants completed a Customer Job Canvas . By empathizing with Nicolas's questions about the customer job ' staying healthy ', it became increasingly clear what Victor should focus on too. After all, his life in the neighborhood with its community. This also allowed us to map the desired results and solutions for Nicolas.
This gives pharmacist Victor a precise picture of the world of elderly patients in his neighborhood, such as Nicolas: what is their concern and how do they deal with their health? If Victor's solutions fit in precisely with this, he can reduce the mortality rates in his neighborhood. In this way, this pharmacist keeps his neighbors out of the hospital for as long as possible.
Outsiders?
Together with international participants from completely different companies, we came to the same insights. Spectacularly realistic. It was nice to see how you can also get a creative atmosphere in an online workshop. I thought it was fine to compare it with the 200 post-it notes that you can paste on the wall in an offline design thinking session.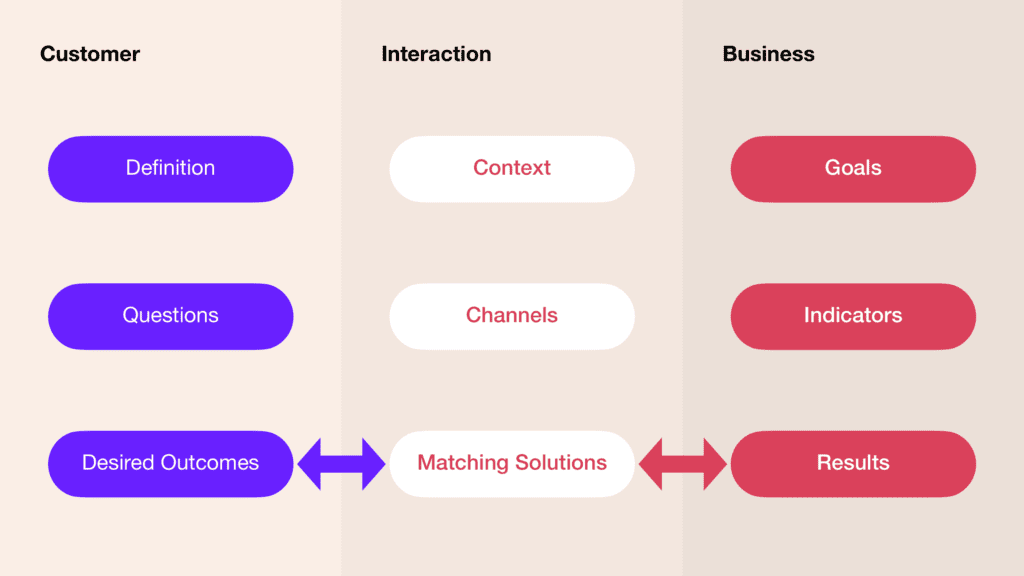 Customer Job Method
In the end, we identified more than 120 questions and solutions. We brought these together in 8 different clusters with solutions. In the sweetspot we found solutions that matched both Victor and Nicholas. We were able to combine them into 4 good ideas:
A different layout of the pharmacy, with a more accessible entrance and a coffee corner.
Monthly meetings in the neighborhood about relevant conditions for the elderly (or rather: staying fit and thus saving money).
A 'staying healthy' check, with both an app and a quiz.
Starting a collaboration in a 'health center' with a fitness center in addition to the pharmacy and collaboration with the local supermarket for nutritional advice.
A real pharmacist's view
One of the participants really was a city pharmacist. She said that she was implementing a number of the invented solutions as we spoke- . We all became more and more enthusiastic along the way. We realized what emerged in the workshop: we created the pharmacy of the future!
A place where people meet, where you can drink coffee and network with people from the neighborhood. With a different layout: a waiting room, a delivery room and a private room so that the pharmacist can help the customer one-on-one.
With monthly meetings about health issues, with announcements to local entrepreneurs and a online chat with the pharmacy.
'It's great how you can get to the core of a problem, a customer and an organization with which you are not at all familiar with this method.'

Brigitte de Leeuw Agile coach at Profit-Marketing
We didn't get figured out. And the pharmacist in our midst? It was her first online workshop. She was immediately wildly enthusiastic. She now knew even more acutely how she wanted to continue the innovation.
The winning perspective
The customer job method proves itself time and again. It is based on the empathy and diversity of the participants. The method taps into unprecedented creativity.
Not only to get to the bottom of the real needs of your customers, but also to clarify your matching solutions. Solutions with which you really hit the mark with your customers. This brings certainty, even when the future looks unstable
Also interested in groundbreaking insight? Contact Ellen for more information.